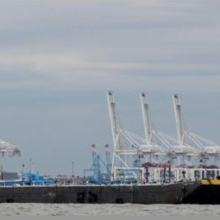 Principal Maritime Tankers Corp, which is backed by Apollo Global Management LLC, filed with U.S. regulators to raise up to $100 million in an initial public offering of common stock.
UBS Investment Bank was underwriting the IPO, the company told the U.S Securities and Exchange Commission in a preliminary prospectus on Wednesday.
Principal Maritime owns tankers used to transport crude oil and petroleum products. The company had 12 modern Suezmax tankers as of March 31, according to the filing.
The company, formed in February, intends to list its common stock on the New York Stock Exchange under the symbol "PMAR."
The filing did not reveal how many shares the company planned to sell or their expected price.
Net proceeds from the offering would be used to reduce outstanding debt under its credit facility, the Southport, Connecticut-based company said in the filing.
The amount of money a company says it plans to raise in its first IPO filings is used to calculate registration fees. The final size of the IPO could be different.