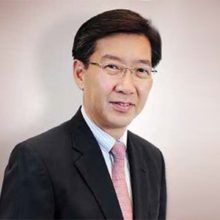 Singapore has confirmed plans to continue to add capacity that will eventually see it operating some 65m teu annually by 2030.
In a keynote speech at the opening of the TOC Container Supply Chain Asia conference in Singapore, PSA International chief executive Tan Chong Meng said that by 2020 it would begin construction of what is being termed its "mega-port".
He said the company would press ahead with the plans, despite the current volatility in shipping being expected to continue.
This is primarily driven by three key trends: the continuing deployment of ultra-large container vessels (ULCVs); the need for shipping lines to operate within larger alliances; and the continuing pressure of rising energy costs.
Combined, these resulted in a new "80-20″ situation, he said.
"There is a new normal: it is a world in which 80% of cargo is concentrated in alliances, while 20% of vessels are mega-ships. But this is not without its disadvantages – it is very much three steps forward and two steps back." he said.
In particular, increased vessel sizes require a different parameter for port operators. Vessels which now routinely measure 400 metres in length lead to far more "berth wastage", Mr Tan said. Handling two ULCVs simultaneously routinely meant at least 90 metres of a berth was unuseable, whereas with smaller ships, three could have been handled on the same length of quay.
Currently, out of the 52 berths PSA operates in Singapore, 20 can handle ULCVs; a ratio of slightly less than 40% of its total quay length. By 2018, 35 out of the then 67 berths in use will be able to handle the mega-ships.
"But in terms of kilometres of quay, these 35 berths will take up two-thirds of the total, so it's a much higher investment – our capacity investment is much higher over the next two decades," he said.
A secondary problem, he added, was the effect of the cargo flows off the ULVCs, especially when combined with cost reduction strategies such as slow-steaming and void sailings.
"We cannot say the liners are not doing the right thing by reducing these costs, but schedule reliability is getting worse and reached a new low of 64% of on-time arrivals in the fourth quarter of last year, and it doesn't seem to be getting better, so how much worse will it get?" he asked.
This was compounded by the huge numbers of containers being loaded and unloaded in a single call, which led to far more complexity in yard operations and had a direct effect on landside flows in and out of box terminals.
"We have to find new ways of optimising the supply chain, the upsizing of vessels is only the beginning. The other parts of the supply chain have yet to catch up," Mr Tan argued.
Thomas Riber Knudsen, Maersk Line's Asia Pacific chief executive, said that a delay in berthing a ULVC in one terminal often meant further delays in berthing later on in the schedule, especially as berthing windows were often missed, which further hit liner reliability and meant container congestion got worse.
DP World's UAE regional managing director, Mohammed Al Muallem, suggested that this could be alleviated if mega-hubs worked more collaboratively.
"We can't just keep building more berths," he said. "Another solution is for collaboration between, say, Singapore and Jebel Ali – especially in terms of planning."