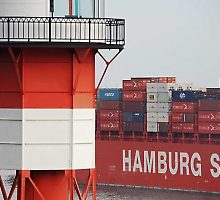 The operational parameters for the high-volume and heavy goods shipments into the Port of Hamburg, generating such significant added value, are in need of sustained improvement through efficient infrastructure and lean authorization procedures. Such is the call from the Hamburg Chamber of Commerce, der Unternehmensverband Hafen Hamburg (UVHH), Port of Hamburg Marketing (HHM) and der Verband Straßengüterverkehr und Logistik Hamburg (VSH). "Three out of four machines manufactured in Germany go for export, and it is therefore essential to secure the access to main traffic routes and overseas ports," stated Fritz Horst Melsheimer, President of the Chamber of Commerce.
VSH chairman Thomas Usinger appealed to the authorities to devote more attention to the load capacity of roads and bridges: "If we are to be capable of acting immediately, timely shipments necessitate the regular conduct at short intervals of static calculations regarding loads transported. Otherwise we shall face a situation as with Argentinienbrücke on the main route through the port." Static calculations of have shown that the bridge is no longer up to handling today's loads, so that restrictions affecting heavy goods traffic have had to be imposed.
The universal port of Hamburg with its multipurpose terminals is of great importance for the transhipment of conventional general cargoes, emphasized the four commercial bodies. In the Metropolitan Region around 18,000 jobs depend on this segment. Transport of oversize and especially heavy loads is constantly becoming more difficult on account of the limited load capacity of many bridges. Chamber President Melsheimer continued: "Since these cargoes – machine and plant elements, for instance – are of immense importance for the Port Hamburg, any restrictions on bridge structures make a direct impact on port throughput." Should no sustained improvement in the situation occur, warned Melsheimer, there was a risk that the project cargo of such importance for Hamburg would in future be loaded at competing ports. The UVHH also therefore appealed to central government and the federal states to put these bridges that are so vital for cargo transport in order as rapidly as possible.
UVHH, HHM, VSH and the Chamber of Commerce have joined representatives of the Hamburg administration in setting up a "Round Table" covering the transport of high-volume and heavy cargoes. This is designed to promote a regular exchange of experience and to lead to improvements. Business representatives had beforehand submitted an account of the situation and recommendations for action.