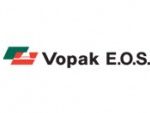 Vopak E.O.S. has announced the initiation of an alignment of the organization as a response to changes of the marketplace over the last few years and a difficult business environment. The company is a joint venture in Tallinn, Estonia of Royal Vopak and Global Ports Investments.
"Over the past few years, the difficult business environment and increased competition from new Russian facilities have impacted throughput volumes at our terminals," said Arnout Lugtmeijer, CEO of Vopak E.O.S. "At the same time, we have been able to promote the technological and logistical advantages of our facility to a broader group of customers, diversifying the cargo base which is now being increasingly delivered to the terminal by vessels. We have therefore initiated the process to align our organization with these developments."
"This process includes re-locating and reducing staff where appropriate, decreasing overheads and optimizing both our maintenance costs and the capital expenditures at our terminal facilities without compromising on the high safety and service levels that Vopak E.O.S. is known for and which are appreciated and valued by our customers," Lugtmeijer said.
The process of re-aligning of operations will be implemented in the course of 2014.
As the largest independent oil products terminal operator in the Baltic region, Vopak E.O.S. continues to actively seek new business opportunities to maximize the efficient use of its premium terminal infrastructure.