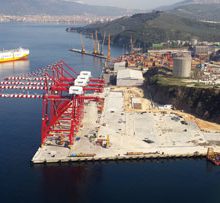 Istanbul based port management and logistics company YILPORT has announced its vision for the future, which includes the aim of operating 50 container terminals across five continents handling an annual total of 22m teu; over ten times its current 1.96m teu, by 2023.
YILPORT is part of the YILDIRIM Group, an international industrial conglomerate active in metals and mining, fertiliser, chemicals, coal and coke, port operation and logistics, energy, shipping, real estate, construction and private equity sectors.
The company has ambitions to become one of the top 10 global container terminal operators and it recently became the largest terminal operator in Turkey in terms of the number of ports operated and overall capacity.
According to Sean Pierce, CEO of YILPORT Holding, "YILPORT volumes increased by 11.7% for Turkish gateway container operations and were matched by a corresponding decrease in cost. We are focused on sustainable profitability and are investing heavily for the continued expansion of our existing facilities to keep pace with the increasing size of vessels."
YILPORT is currently commissioning four Mitsui quay cranes at its new Gemlik terminal that are capable of servicing +18,000 teu vessels. Four more are in production in Japan and scheduled for delivery to YILPORT Gebze in Q4, 2014.
With a range of new terminal projects spread across the Middle East, Africa, Europe, North and South America, "The 'YILPORT' portfolio of the future will be built upon the strength our partnerships and delivery of port and logistics services that allow our customers to enjoy further competitive advantage and increased market share," said Pierce.