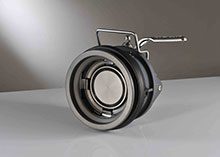 The body housing now incorporates a rubber 'bumper ring' which affords added security of the interlock by limiting the severity of shock loads transmitted through the body casing while in service. Fort Vale believes that it will also contribute to the durability and longevity of the coupler.
The Safeload with bumper ring has undergone extensive in-house impact testing to ensure that a shock load was absorbed, leaving the interlock engaged and the coupler securely closed. The bumper ring itself is manufactured from a rubber compound.
Independent tests confirm that it has a surface resistivity significantly less than the 1 G Ohm required by IEC 60079-0:2011 clause 7.4.2.
"Fort Vale works closely with leading tank farms and we believe that our Safeload coupler offers the terminals simple but effective design benefits, such as connection-improving extended triggers that also reduce wear on the adaptor, splined handles in place of handle pins and compression springs instead of wavy springs that are susceptible to breaking. Our coupler not only improves safety but gives time back to terminal maintenance staff in the form of equipment requiring minimal maintenance input. On top of that, this latest innovation comes at no extra cost to the customer," explained Jack Muellner, director of sales for USA.