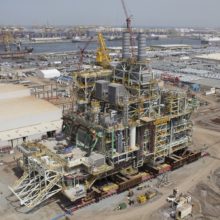 The difficult task of moving the massive platform has earned Lamprell a Guinness World Record.
Guinness World Records adjudicator Samer Khallouf presented Lamprell with the official Guinness World Records certificate at an event held in Dubai confirming that the offshore platform was the 'Heaviest load moved by self-propelled modular trailers (SPMT)', measured at 13,191.98 tonnes.
At the event, Abdulla Bin Damithan, Commercial Director, DP World, UAE Region, presented a commemorative gift to Lamprell CEO Jim Moffat to mark the occasion. Lamprell built the Production, Utilities and Quarters (PUQ) deck at its yard in Jebel Ali and it was delivered on time and on budget, after 10 million man-hours without a lost time incident, to Nexen Petroleum for use in the North Sea.
Moving the platform from Lamprell's yard in the free zone to Jebel Ali harbour was a major challenge with the combined weight of the platform and the SPMT reaching more than 15,500 tonnes, and with the PUQ deck measuring more than 98 metres by 46 metres with a height of close to 60 metres.
Abdulla Bin Damithan, Commercial Director, DP World, UAE Region, said: "It's a moment of great pride for us that this record-breaking platform has been built in the UAE. This successful project is the largest offshore platform to be constructed by Lamprell, and we are delighted to have assisted with port and marine side services. DP World has invested heavily in the infrastructure of our terminals to make sure we always meet the needs of our customers. One of our focus areas is heavy-lift shipments. Congratulations to Lamprell for this world record achievement."
James Moffat, Chief Executive Officer for the Lamprell Group, said: "The delivery of this latest offshore structure highlights Lamprell's growing reputation in the new-build offshore construction market and confirms our position as one of the few yards in the MENA region that has both the expertise and the capability to build large scale complex North Sea projects. Delivery to such high standards would not have been possible without the close teamwork between the Lamprell, Nexen and DP World. I would like to thank Abdulla Bin Damithan and his DP World, UAE Region team for their port and marine side services support which ensured we could deliver this project successfully."