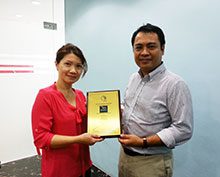 Regina Lau, director of Pelican Worldwide Asia, has been appointed as the first chairwoman of the Singapore-based ATCA (Asia Tank Container Association).
In her new role she will spearhead developments of the Asia ISO tank spares and parts subcommittee, to help the Asian tank industry to achieve higher level in terms of safety and quality, according to a statement.
Lau was presented with a commemorative plaque and welcomed into her new role on 7 April 2014. "This role will be crucial to group discussion and planning initiatives to make sure only good, quality tank spares and parts are sold in the industry. Recent infestation of inferior parts is of great concern; we believe her involvement will assist in eradicating this behaviour," the statement continued.