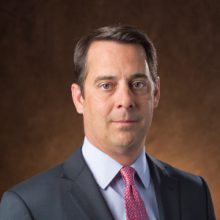 Q: Please tell us briefly about Hoover as a company including areas of operation and its main products?

Hoover Container Solutions is a leading bulk liquid storage and handling solutions partner, based in Houston, Texas. We operate worldwide with a footprint that reaches nearly all major international oil and gas sectors. Hoover is not only an IBC manufacturer, but brings high quality, certified tank and container technology (including ISO tanks) and service solutions to the fluids, cargo and waste markets.
Q: What makes Hoover stand out from its competitors?
Hoover sets itself apart with high quality products, dedication to customer service, and the ability to develop innovative new products and services to meet our customers' needs. In addition, our global footprint, product offerings and service capabilities, mixed with a fantastic and experienced staff that love their jobs makes Hoover Container Solutions different from the rest.
The most widely-used Hoover products can be dispatched within 24 hours to anywhere in the world. The breadth of products and services we offer from such a large number of international locations gives Hoover a truly unique position amongst its competitors.
Q: What have been the most interesting market developments in the last 12 months?
In the offshore energy business, we continue to see a move towards higher quality equipment and third party certification of quality standards for equipment.  As the highest quality player in our industry, we are supportive of these efforts to make our industry safer.
Q: Hoover has made many acquisitions in recent times such as Tote Systems LLC Liquid Division in 2013. What was the strategy behind this and are there plans to expand further?
Hoover has a blue chip customer base that is comprised of some of the largest companies in the world. Our growth strategy is to better serve our existing customers.  We do this in three ways:
1) Design, acquire or engineer new products that our existing customers can use
2) Provide services that support these products
3) Develop a network of local service and distribution centers to better support our customers with these new products and services on a local level
We have done this via organic growth and via acquisition. Acquisitions are not a stated strategy, but when we find a company that shares our focus on quality products and service and they are interested in being part of a global network, we have pursued the acquisition route.
Q: What are the main challenges associated with operating in the offshore oil and gas logistics industry?
The offshore oil and gas business operates in some of the harshest environments in the world.  Manufacturing and maintaining our equipment to highest industry standards requires a constant commitment to quality and safety.
Q: What are Hoover's plans for the future?
We will continue our strategy of providing our customer global capabilities and high quality products, with local service.