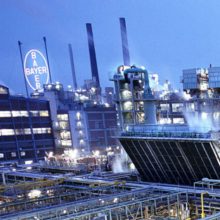 Materials provider Bayer Material Science (BMS) and Swiss logistics management company 4PL Central Station (4PLCS) are co-operating in a transport management project for isocyanates.
The co-operation agreement covers a range of disciplines, such as transport planning, optimisation of transport services and freight cost accounting through a credit note system. Basel-based 4PLCS has also implemented an electronic processing platform to connect all the logistics service providers involved in the projected.
4PLCS is supported by the Chemical Competence Alliance (CCA). The logistics service providers within the CCA that are currently working for 4PLCS in the BMS project are DB Schenker BTT, Alfred Talke and VOTG Tanktainer. The goal of the alliance is the establishment of new bulk supply chain concepts with a focus on increasing the utilisation of independent tank container fleets and minimising empty kilometres in the positioning and re-positioning of tank containers.
The CCA is open to all interested logistics companies involved with the chemical sector, as the long term strategy of developing new logistics concepts will be of benefit to all market participants.
"Bayer MaterialScience decided deliberately to go for this new approach in the chemical industry, as further optimisation and securing the supply of special equipment are only feasible through collaborative approaches," said Frank Andreesen, Bayer MaterialScience, vice president-logistics EMEA.
"We believe we have found a set-up combining the professional and neutral approach of 4PL Central Station and the industry network of CCA with which we can realise our vision."