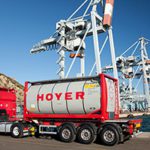 The Hamburg-based group has approximately 32,000 tank containers and this year the logistics service provider will invest in 250 new tank containers with a capacity of 24cbm. For 2015 and 2016, new orders have already been placed for a total of 3,200 units from leading manufacturers.
"Our tank containers are in big demand with our customers," said Ulrich Graupe, head of equipment management at Hoyer. "By systematically expanding our transport equipment, we are creating good conditions for future growth in global intermodal transport." Demand for tank containers with a volume of 26cbm in particular is growing. Hoyer has ordered 1,000 of these with baffles and 900 without baffles for the next two years.
The group says it also also has the right equipment available for smaller transport volumes. In 2015 and 2016, another 700 tank containers with a capacity of 24cbm and 600 with a capacity of 21cbm will be manufactured for this purpose. By investing in new tank containers, the international logistics specialist is responding to individual customer requirements.