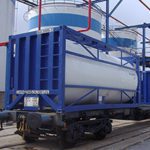 As a result the company, which celebrates its 50th anniversary this year, is now rolling out a new freight car loading and unloading service for chemical products.
The siding, which TEPSA built in 1989 on the terminal at Muelle de la Energía (Energy Dock) in Port of Barcelona, began with the loading of petroleum products – mainly diesel – and has been in sporadic operation since due to fluctuations in demand.
In 2013 TEPSA launched a project to modernise the Barcelona railway siding, initially investing in adapting facilities to handle the loading and unloading of freight cars carrying chemicals. Early work involved the installation of meters, pumping equipment and the safety equipment needed to handle this type of product. The infrastructure also needed to be adapted for loading/unloading ISO containers.
The first product to put these improved facilities to a test is. A 208,000kg load of monoethylene glycol (MEG) was transported on 5 June in a convoy of four flatcars and eight tank containers.
The product was shipped from the Middle East to the TEPSA facilities by sea and then stored before for onward shipment by train to Selgua, near Huesca, some 370km north-west of Barcelona, where the containers are unloaded onto flatbed trucks to be transported by road to a production plant about 20km away. This run is expected to be performed once a week.