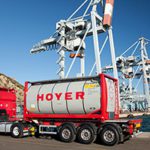 Hoyer reported operating earnings (EBITDA) up 18% year on year for the first half of 2014. Turnover remained stable.
Good results from the contract logistics area were partly responsible for the positive development. The Petrolog and Foodlog business units made a substantial contribution, while the Gaslog business unit also increased its level of activity and resultant earnings compared with 2013.
The Supply Chain Solutions (SCS) area, which is part of the Techlog business unit, recently notched up a particular success by winning the bid to provide plant logistics for a major chemical company. This contract involves a complex outsourcing operation. SCS is pursuing further expansion projects in the Middle East and China.