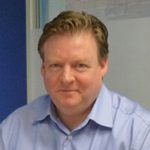 Can you tell us which areas Denios operates in?
With over 25 years of experience, Denios is the undisputed market leader in environmental protection and work safety. Of German origin, Denios has established itself throughout Europe, opening its UK office in 2000 specifically to meet the needs of the UK market. We cover the whole of the UK and Ireland supporting companies from a varied and diverse range of markets. From the top universities, blue chip companies and SMEs looking for support in their hazardous storage needs. As a designer and manufacturer we are able to provide bespoke solutions to a wide range of circumstances. When it comes to environmental protection, we have every need covered.
What are Denios' flagship products?

This is actually a difficult question to answer; we have over 10,000 products in our catalogue and on our online shop. I guess where we excel is in our vast range of sumps – be it drums or IBCs we have a sump to cover every market need, from the food industry to the petrochemical markets. We supplement these products with our range of storage solutions, all designed for the safe containment of hazardous materials. We do not compromise on quality, these are products designed to save lives, property and the environment, we refuse to downgrade for cost.
What makes Denios unique?

Apart from the vast range we carry, we have over 25 years' experience advising and providing solutions to some of the major companies throughout the world. The likes of BMW group, VW, Hilti, Evonik and Airbus have all benefited from the support and products we have been able to offer. We have technical capabilities in 16 major countries including the USA. Whatever the customer requirements, we are able to produce standard solutions, which can be adapted to any application or create bespoke solutions to specific requirements whilst respecting UK regulations.
What are the main challenges in the hazard storage market?

Unfortunately the main challenge we have within most markets is the lack of awareness when it comes to the safe handling and storage of hazardous goods. On far too many occasions we have been called in by a customer because of one of three reasons: an impending or recent HSE visit, an insurance policy or a response to an incident. Our challenge is to try and impart our knowledge onto our customers and move from a reactive state to a pre-emptive state. The changing landscape of almost all the industry has focussed very much on cost, speed and efficiency. Our challenge is to ensure the customer is aware of potential dangers and support them with the appropriate solutions and support, ultimately providing a safer environment and work place.
What are the major technological advances in this sector?

From our perspective we are constantly looking to improve our products to support the ongoing demands of storage. Over the years we have developed very sophisticated containers for not just storing the hazardous materials but to control the environment they are in. We are able to provide solutions for heating and cooling materials, be it because of the volatile nature of the substances and often the segregation required. In a lot of instances we provide solutions for pre-processing materials for readiness in production. As structured materials have been developed to support fire protection, we have evolved our own products; our REI 120 storage containment is a world first, providing two-hour protection from external fires or indeed internal fire inside the container. We are constantly developing our products to support the needs of our customers. We have won top innovation and design awards for our products throughout Europe. The App we have recently developed is another first in our industry, once again providing our customers with a pool of information to support them in a safe operation. From the latest regulations to recommendations for storage, product information and case studies. Imparting our knowledge onto the customer for the ultimate aim – protection of the environment and safe operation in the work place.
What are Denios' plans for the future?

We are best known for the products we provide concerning environmental protection, work safety and storage solution. Our aim for the future is to support this with the entire safety solution, training and personal protection. We aim to be the only support our customer requires for their safety needs. As we are a manufacturer, we understand the complexities and day to day distractions that take us all away from a safer environment. We want to work together with our customers help bring about the cultural change and awareness of the dangers that exist in every business. It may sound a bit cheesy, but our future plans are safety for us and all our customers.