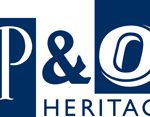 P&O Heritage has launched its new online exhibition compiled from its P&O archives, 'Our War at Sea', and it is also supporting the Wellington Trust 'Hospital & Troop Ships' exhibition on board the vessel HQS Wellington in London, which opens to visitors today.
'Our War at Sea' is a thoughtful online retrospective which charts the progress of the war and its profound effect on the P&O company, its fleet, its people and its passengers. The Wellington Trust exhibition focuses on the transportation of troops and wounded by sea. Both exhibitions feature original artwork, photographs and archives from the P&O Heritage Collection, which is today proudly preserved by DP World.
P&O Heritage Senior Curator Susie Cox said:
"The merchant navy was absolutely essential to the allied war effort and P&O was a major contributor. As the then P&O Chairman, Lord Inchcape, commented in 1915 – 'Without the British Mercantile Marine where would the country have been in this war? The British Government did not possess a single transport, a single vessel adapted for the conveyance of munitions or stores or horses or mules or camels or a single hospital ship.'"
She added, "The Wellington Trust exhibition 'Hospital & Troop Ships: transporting the walking and the wounded in WW1' opening today uses images, film and original artifacts, including ship models, to tell the story of the brave men and women who faced the threat of attack and mines on top of the usual perils of the sea."
The P&O Heritage Collection exhibition can be viewed at: http://www.poheritage.com/the-collection and the Hospital & Troop Ships Exhibition is open to the public from 10 August – 15 December 2014 and from 1 March – 25 May 2015 from 11.00am to 5.00pm at Temple Stairs on the Thames – admission is free.