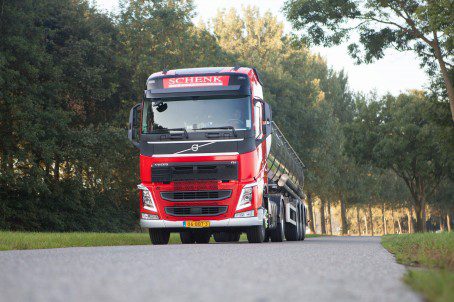 Schenk Tank Transport, a Netherlands-based fuel and industrial gas distributor, recently took delivery of its 1,000th Volvo truck. The FH Light Euro 6 is part of a total order for 50 new FH tractors.
Founded in 1925, Schenk started as a commercial sand and gravel transport company. Having developed a substantial tanker fleet the company now also specialises in international container transport. This includes international transport of fuels, lubricants, LPG, industrial gases, bitumen, micro silica, chemicals and liquid fertilisers.
The new Volvo FHs replace the existing fleet and will be used for international transport. The trucks have a comprehensive safety package, including adaptive cruise control and forward collision warning with emergency brake.