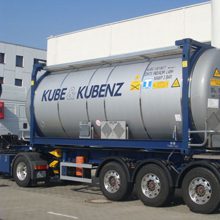 Kube & Kubenz was the first freight forwarding company to try out this traffic link in mid-September with the movement of a tank container on behalf of a major German chemicals and pharmaceuticals manufacturer. The route took the container from Cologne to Turkey via Trieste in Italy.
"The transport operation went very smoothly and the container was delivered on time," said Michael Kubenz, managing director of Kube & Kubenz, adding: "We're able to save time and money by using the direct sea route from Trieste to Çeşme, as this significantly reduces the overland route by truck. This provides enormous benefits for our customers and also protects the environment, because the CO2 emissions are much lower."
After the filling operation in Dormagen, the container made its way by train from the terminal in Cologne-Eifeltor to Trieste on the Italian coast. There, it was loaded onto a truck chassis before it travelled to Çeşme in the west of Turkey by sea. A truck picked up the tank container with its volume of 30 cbm in Çeşme and delivered it to Izmir, 85 km away. There, it passed through Customs and was then dispatched for the final leg to the consignee in Manisa.