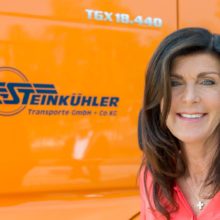 German tank haulage group Steinkühler is equipping its fleet with Trimble CarCube telematics systems, representing a total of 300 on-board computers.
Since March of this year, the company has been progressively rolling out CarCube to its entire fleet. In future, the FleetXPS Application mobile telematics system will also allow the integration of subcontractor data. Steinkühler's goal is to optimise its logistics processes, streamline information flows between drivers and planners and improve its quality management.
Based in Rheine, in the state of North Rhein- Westphalia, Steinkühler has a modern vehicle fleet of over 300 tractor units and more than 400 trailers, including tank, silo, curtain and slurry trailers, as well as silo containers.
Managing director Gabi Steinkühler is enthusiastic about the benefits of the new system: "We have been using a telematics system for more than 10 years and have now moved up to the fourth generation – this time along with a change in supplier. Thanks to CarCube, we now have a solution that operates across all generations, with open interfaces to our ERP system and that adapts flexibly to suit our requirements."