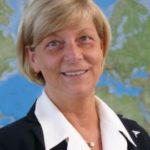 In addition, the Board has elected Jochen Köppen to be the next Vice President for two years, commencing from 1 January 2015.
In electing Heike Clausen as President, the Board thanked her for the progress that the Organisation has made during the past two years. In particular, it highlighted the work that she has done to provide guidance, support and transparency to ITCO projects. In addition, considerable attention has been paid to strengthening important activities, such as the focus on safety, the international development of the organisation, the publication of technical reports, the high profile at trade shows, a co-ordinated PR campaign and the introduction of Corporate Responsibility into the agenda. With this re-election, the ITCO Board is looking to ensure that this strategy will be continued.
"I'm looking forward to another two years of challenging – but rewarding – work for ITCO and the industry that the organisation represents", commented Heike Clausen on her appointment. "I thank the board for the positive feedback, support and trust to move forward on the path towards more transparency and guidance – in particular for the overall aim of safety and for the reputation of our industry."
Both the ITCO President and Vice President are professionals in the tank container industry. Heike Clausen is the managing director of VOTG Tanktainer, based in Hamburg. Jochen Köppen is managing director of Köppen GmbH, a leading tank container service provider, based in Duisburg, Germany.