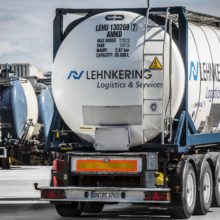 Using the new LEHU BIC code, Lehnkering is now an officially registered and recognised operator for highly specialised new tank containers for transporting and providing intermediate storage for special chemicals.
"There's a relatively large number of standard tank containers in the market, which is why we have deliberately decided to expand our fleet of specialist tanks for use in the special chemicals sector," said Steffen Bauer, managing director of LCT.
As far as the technical specifications are concerned, LCT is taking into account customer's individual requirements. For example, the fleet expansion programme includes tank containers with a rubberised inner coating, V4A stainless steel tanks, which resist corrosion and acids, and customised special designs.
The first insulated swap body tanks with surge plates and a load capacity of 30 cbm have already been supplied. In addition to transport operations, the units are also suitable for use as buffer storage facilities for production processes in the chemical industry. The high-quality, non-rust and acid-resistant V4A stainless steel makes it possible to use the tanks for a wide range of liquid chemicals.
Thanks to their insulation, the tanks are designed for use in operating temperatures ranging between -40 and +130 degC. Three surge plates minimise movement of liquids within the tank.