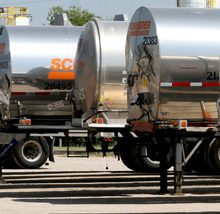 The facility will cover over 9.5 acres and have a modern 36,290 sq ft building housing four modern maintenance bays and two food grade bays, plus four "technologically advanced and environmentally sound" chemical cleaning bays.
The complex will comprise 6,950 sq ft of offices, excluding Quala offices and trucker's area. Drivers themselves will be able to take advantage of a 2,152 sq ft area comprising lounge, break room and rest rooms.
Scheduled opening is March 2015.