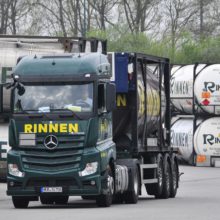 Today, Rinnen monitors and optimises the use of some 200 tank semi-trailers with an advanced Transics fleet management solution. So far, Rinnen has experienced a number of productivity and competitive advantages, including, lower telecommunications costs, better deployment of drivers and vehicles, route optimisation (including reduced toll costs), asset monitoring of trailers, and measurable and assessable KPIs that help cut fleet costs.
Rinnen decided to partner with Transics to cope with the rapidly changing market needs. The company chose Transics' telematics via a tendering, whereby all proposals were carefully analysed. Key criteria included a rapid installation in the fleet across Europe, and the solution had to be uniform, multi-language and hi-tech.
Transics is gradually equipping Rinnen's European fleet over the next few years, comprising over 3,500 tank containers and around 1,000 vehicles.