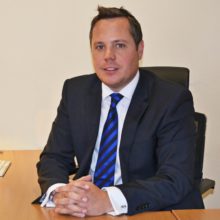 Please can you tell us a little about your background and how you came to work with the Suttons Group initially?
I joined Suttons in 2005, at the time the company was beginning to show signs of the sort of growth we have enjoyed in recent years and demonstrated to me the potential the company had to expand. Prior to joining Suttons I graduated university with a degree in business and human resources (HR) and joined CPL Industries Group, a subsidiary of the National Coal Board where I held a number of HR management positions and completed my masters in HR management.
I became Suttons HR director and was appointed to the Group board in 2008. Since then my role has developed significantly working across our UK and international functions and also taking responsibility for our UK workshop business and group SHEQ. We have a strong HR team at Suttons which enabled me to take on more commercial responsibilities in addition to my other commitments, this included taking ownership of recent M&A activity and playing a key role in developing the group's strategic development.
As managing director of our tankers division, my focus will be on driving performance through our people, ensuring our structure is aligned to our customers needs and ensuring Suttons continues to be seen as the benchmark in our industry for performance quality of service and safety.
Can you provide a short overview of the company's areas of operation?
Suttons Group is a leading international logistics and supply chain specialist focused on delivering products and services to the chemicals, gases, fuels and food sectors.
The company operates in Europe, the USA, the Middle East, South East Asia, China and Asia Pacific.
Our aim is to create high quality, transparent, streamlined, efficient and safe supply chains. We have the assets, people and experience to deliver this and generate real operational and commercial benefits for our customers.
Our services include, but are not limited to, domestic and regional road tanker transport, ISO tank container import and export, 4PL, contract logistics, fleet management, supply chain management, warehousing, drumming, on-site logistics activities, tank cleaning, tank and vehicle (HGV) maintenance and testing, freight management and consultancy services.
How many tankers and drivers does the road tanker division have and how many different products are carried?
In the UK, the Suttons fleet consists of over 360 tanker trailers and more than 230 tractor units; the Imperial Tankers fleet has 350 tanker trailers and more than 180 tractor units. The two companies operate separately but our teams do support each other through periods of increased demand. This gives us, and consequently our customers, added flexibility and resource at very short notice.
Suttons transports chemicals, gases, fuels and food throughout the UK and increasingly into and out of Europe. Within these commodities there are thousands of different products each with their own specific transport requirements. Some are highly temperature sensitive and food products require strict hygiene processes and procedures. For the highly hazardous products we carry, specific loading and unloading procedures must also be adhered to at all times. Put simply, if it's a liquid, gas or powder, we have the knowledge, expertise and equipment to load, transport and deliver the product.
In addition to the fleet based in the UK, we also have road transport operations supporting our intermodal fleets in Saudi Arabia, China and Singapore.
What are the main challenges faced by a company running a road tanker operation?
There are many different types of road tanker operations in different sectors, each with their own challenges. I think across the board in the UK there is a growing issue with skilled and qualified drivers. Of course, fuel and maintenance costs are also always going to be a continuous challenge.
At Suttons, we sell our services based on two key elements of safety and quality and we are uncompromising about ensuring we achieve both. To do this we invest heavily in driver training, equipment, IT systems and personnel. We are competing against many companies with different priorities and our challenge is to ensure that we maintain and build on our levels of service and safety while at the same time remaining competitive and attractive to our customers.
How do the operating challenges differ for the different products carried?
As I mentioned earlier the products we carry vary hugely and each one has its own specific requirements. Many operating challenges that we faced in past years are now not challenges due to technical advances. It's now relatively easy to maintain product temperature, for example, if you have the right equipment.
We do face seasonal challenges with some products in greater demand at certain times of the year. The challenge for us is to ensure that we have the assets and drivers needed to cope with the demand spikes, some of which are at very short notice. In the slower months we must then ensure these assets and drivers are used elsewhere in the business. It is therefore vital that we have the ability to handle this and I think that through our excellent planning teams, our extensive depot network and large fleet, we are well placed to meet these challenges.
What makes the tanker division of the Suttons Group stand out from its competitors?
Suttons is unique in that it approaches each customer as an individual with their own challenges, requirements and opportunities. We try to understand what is needed from the customer's point of view first as a one size fits all, off the shelf solution doesn't work.
In order to maintain consistently high levels of customer service, innovation and continuous improvement, we work with our customers, maintain regular contact and seek regular feedback. By taking a collaborative approach with them, we can often identify problems before they arise and resolve them. This is imperative if we are to ensure no disruption of service to our customers.
I also think that one of the great strengths of Suttons is that it is still family-owned and enjoys the flexibility that this brings. Yes we are a large international logistics and supply chain company, but our customers know that if they have an issue and want to pick up the phone and talk to our CEO John Sutton or me, they can, and they know that we'll listen.
Suttons has also been around a long time and this year is our 60th anniversary. We are very proud of our heritage and I believe a key element to the success we've had during this time is that the company regularly takes stock of where we are today and where we'd like to be tomorrow.
Suttons is a very forward thinking company and we have actively looked to bring people in to the company who have strong logistics and supply chain backgrounds but not necessarily in road tankers or ISO tanks. The reason for this is that I think it's crucial that we are always identifying new and alternative ways of working that can benefit our customers. By bringing experts from other sectors, we have found that the ideas and strategies they bring to Suttons and our customers are highly transferable into the sectors we operate in.
What have been the most interesting developments and achievements across the wider Suttons Group over the past year?
The last year at Suttons has been a very exciting place to be. John Sutton has taken over as Group CEO having previously been managing director of our international business. John has ambitious plans which include organic growth in some areas and substantial investment in others. In the last 10 months alone we have made two significant international acquisitions in China and Singapore and in September this year we acquired Imperial Tankers in the UK. I have been fortunate enough to have been heavily involved in all of these transactions and can see first-hand the added value we are now able to bring to our customers through added capability, flexibility and scale.
We were again recognised at the Motor Transport Awards and collected the partnership award for our achievements with a key customer. This award has particular significance as it not only demonstrates that our approach is successful and an example of what can be achieved through customer collaboration, but also recognises all the hard work put in by our teams.
Our international division is also going through a period of exciting growth. Our recent acquisitions in China and Singapore are both significant steps as we continue to build our business in logistics hubs and petrochemical manufacturing zones across the world.
The acquisitions give Suttons a logistics asset base which is essential for us to serve our customers more effectively. Infrastructure on the ground will enable us to grow the successful business we already have and provide our customers with an even wider range of logistics and supply chain products and services.
Looking to the future how would like to see the road tanker division develop over the next 5 years?
In addition to our road tanker business, Suttons International is one of the world's leading ISO tank container operators. The division provides intermodal bulk liquid and gas logistics and supply chain services for most of the world's largest chemical and petrochemical companies. We achieve this through a large and technically diverse ISO tank container fleet and network of international teams based in major logistics hubs around the world.
I see our road tanker division and our intermodal division operating much more closely with each other in Europe and the UK. There are times when a road tanker is the best option for our customer and times when an ISO tank would be more appropriate. It's important that our customers have these options and can mix and match our services to best suit their needs.
We are the largest bulk industrial gas transporter in the UK and have been for some time, transporting gases in road tankers, cylinders, bottles and ISO tanks. We also successfully diversified into the food sector in 2008 and through this we have demonstrated the skills and attributes we offer are readily transferable into other markets. I'd like to see these areas of the business grow alongside our chemicals business as I feel we have a great deal of knowledge and expertise to offer these sectors.