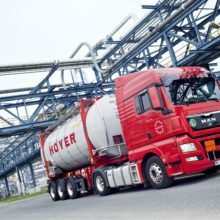 For many years now, the HOYER Group has been integrating itself seamlessly into its customers' corporate processes and optimising their in-plant logistics. The primary concern in Bergkamen, Germany is to supply the production facilities with raw materials and to dispose of the residues. "This successful tender bid is an important milestone for us in establishing ourselves as a full-service provider in the pharmaceuticals industry", says Ulrich Grätz, Director Supply Chain Solutions at HOYER.
Within the scope of the contract, HOYER is recruiting new specialists and investing some 100,000 euros in new equipment. The logistics company is going to carry out more than 15,000 in-plant transport operations per year for its customer.
About the HOYER Group:
HOYER is an independent family enterprise dating back to 1946 which has become one of the world's leading bulk logistics providers, offering comprehensive transport services and complex logistics solutions to the chemical, food, gas and petroleum industries. More than 5,000 employees in over 80 countries across the globe help its customers to become even more successful in their respective markets, with the aid of bespoke and sophisticated logistics solutions. HOYER operates 33,000 tank containers, 2,200 trucks, 2,900 road tankers, 22,700 IBCs, and numerous logistics facilities, transport depots, tank cleaning stations and specialist tank workshops.