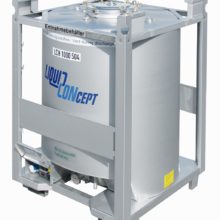 To meet increased demand for special transports and in order to do justice to the requirements of the new contract, Liquid CONcept is investing a quarter million euro in its fleet of small containers. More than 100 heatable IBC (intermediate bulk containers) will be modified to accommodate the client's production processes and quality specifications.
Rather than using the 200 liter drums initially foreseen for transport of liquid petrolatum, Liquid CONcept is using heatable containers for the first time. The advantage is that, unlike transport in unheated drums, the crude mixture retains its fluidity during transport and does not set, so there is no need for a melting phase of production in heating chambers. Deploying heatable containers not only shortens the manufacturer's production cycles for ointments and creams, it is also more efficient and cost-effective.
The client is currently working on the basis of a monthly transport volume of around 25 tonnes of crude material. If, as expected, demand should increase, the volume can be adapted flexibly to production requirements. Heated tank containers are also under consideration. Thanks to Liquid CONcept's just-in-time logistics concepts, the pharmaceuticals client will be able to react quickly to the demands of the market.
The initial contract is fixed for two years.
About Liquid CONcept & Co. KG:Liquid CONcept is a modern, young company, which has been operating since 2008 as a leading logistics provider for worldwide transport of liquids in intermediate bulk containers (IBC). Specialist Liquid CONcept makes use of its in-depth knowhow of complex services to offer customers out of the box solutions. In the foodstuffs and chemicals sectors particularly it develops and realizes tailor-made solutions for global liquids logistics. Its dynamic and flexible team supports industrial and commercial clients with smart logistics solutions, helping them to become even more successful in their respective markets. Liquid CONcept's range of services covers rental, leasing, fleet management, transport, cleaning and maintenance of IBCs, as well as all logistical services connected with tank containers or tank trailers. The company has IBC fleet at its disposal of around 4000 units.
Press enquiries:
Liquid Concept GmbH & Co.KG
Catrin Bedi

Osterbekstrasse 86a

22083 Hamburg

phone: 040-271 670 80

email: presse@liquid-concept.eu