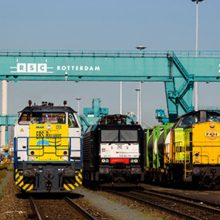 To position the terminal more broadly, the ownership base has been expanded with several partners. DB Schenker Rail continues to own 51% of the shares. Intermodal carriers Bertschi, Hoyer and Hupac are together taking a 49% interest. RSC will continue to operate as a neutral terminal in the new shareholder set-up.
The four companies are among the largest European intermodal carriers. They all have a strong presence in Rotterdam and a lot of experience, either alone or in combinations, in running rail terminals all over Europe.
RSC Rotterdam, in the Waalhaven/Eemhaven area, will play a crucial role for containers, swap bodies and trailers in the development of hinterland transport by rail. In total, the terminal has four modern cranes for handling cargo at its disposal, with a total capacity of 350,000 units a year. Forty trains a day call at the terminal.
Axel Marschal, member of the board at DB Schenker Rail, said: "Modern cargo handling centres like the RSC Rotterdam literally form the hub between maritime and continental intermodal transport flows. The RSC is now positioned more broadly and will play an even greater role in the port of Rotterdam's growth plans."
"The expertise of the new shareholders will provide an impetus for further growth of the cargo handling operations in maritime and continental rail transport. This is necessary for our competitive position because many growth regions in the hinterland are geared strongly towards rail transport," added Emile Hoogsteden, director of containers, breakbulk and logistics at Port of Rotterdam Authority.