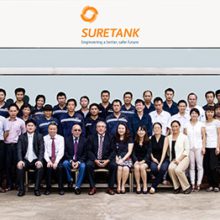 Suretank has been a majority shareholder of the business since 2010 and purchased the remaining 33% of the share capital from Chiling Holdings.
Established in 2002 to produce specialised ISO tank containers, ZZTC also manufactures an extensive portfolio of offshore tanks and containers for the oil and gas sector. Manufacturing is carried out in accordance with the highest industry quality and safety standards.
Eugene O'Hagan, general manager from Suretank China, who was recently appointed to the board of directors in China, commenting on the announcement, said: "Suretank's acquisition of ZZTC provides us with an opportunity to service better our existing customers in the region and strengthen relationships, as well as facilitating further expansion into the Asia-Pacific offshore market. Customers don't just buy a product from Suretank, but a complete service and the Suretank brand is synonymous with safety and quality."
John Fitzgerald, Suretank CEO, added: "This marks a key milestone for the future of our business. ZZTC, or Suretank China as it will now be branded, is the only European owned and managed tank manufacturer in the country. It is our vision to be the leading provider of engineered solutions to clients in the offshore oil and gas industry in China.
"It is business as usual in China and we do not anticipate any operational changes to the facility. All of the existing 101 highly-trained and qualified employees will be transferred across to the Suretank Group, ensuring seamless service to existing customers. We look forward to further developing the business as we strive for engineering excellence and world class customer care throughout our operations globally."
Suretank China is located in Zhongshan City in the heart of the Pearl River Delta, and only 90 minutes from Hong Kong. The facility houses design, engineering, quality, manufacturing and sales & marketing expertise drawing on the extensive experience of Suretank Group in the design and manufacture of DNV certified offshore tanks and CCUs.