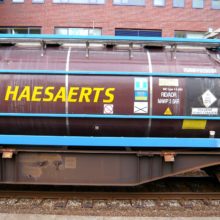 Other companies, including Dow Europe, Procter & Gamble and Hewlett-Packard, were also awarded the first leaf.
The fist leaf is part of a four-tier labelling programme by GFE that recognises and benchmarks members based on their efforts to improve CO2 reduction measures.
Vased in Breendonk, Belgium, Haesaerts Intermodal has been a member of GFE, an industry initiative to support companies in improving their environmental performance, since 2012.
In 2015 GFE will improve the programme of CO2 data exchange. Additionally, all members have access to the GFE Sharing Platform offering expert knowledge, best practices and other information supporting the industry to further improve on their environmental performance and to intensify collaboration. GFE will continue to raise the bar for its members but strives to recognize more members with additional leaves next year.