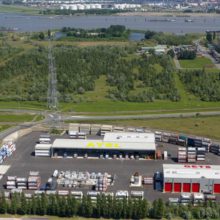 A rising demand for high-quality coating repairs for tank containers in Benelux area has led to the co-operation between coating specialist Hüni, based in Friedrichshafen, Germany, and Antwerp -based tank container service provider Group Van Loon (GETS).
With the global growth of the tank container industry, the demand for specialised equipment has also risen significantly. More and more coated tanks (mainly for corrosion protection or anti-stick applications) have entered the market. Allied to this also the demand for quality maintenance is also more important.
"A perfect application of any chosen coating system is the base for a long-lasting protection of the equipment," commented Peter Hüni, managing director of Hüni + CO. "But also quality maintenance, which includes good cleaning procedures and repairs performed to the best practices available, are the key to coating success."
Gas Equipment Testing and Services (GETS), a subsidiary of Group Van Loon offers services for specialised tank container equipment, including gas & cryogenic tanks.
"Adding coating repairs to our range of services was a logical next step in enlarging our service portfolio," added Günther Van Loon, group CEO. "There is a clear and present demand for these services in our region, but we did not want to enter the market without being able to offer the best techniques, knowledge and quality in the market because we believe only by offering high quality can we add value to our customers' tanks."