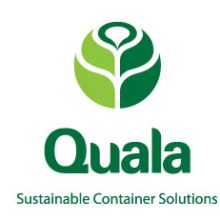 "The purchase of Cronbaugh is a strong strategic move allowing us to continue to expand our North American footprint and enhance our overall service," said Mike Bauer, CEO of Quala. "Cronbaugh is a highly-reputable facility providing food-grade solutions to a strong and complementary customer base. This acquisition directly aligns with our future growth strategy as we continue to add scale to our operations and maximize our service offering into new markets."
Cronbaugh is a single location tankwash providing food-grade tank trailer cleaning for liquid and dry bulk trailers. As of 20 December 2014, the location started operating under the Quala brand.
"We are tremendously excited to welcome the Cronbaugh team to the Quala family," said Terry O'Brien, president of Quala. "We look forward to a seamless integration of services while continuing to maintain our dedication to safety, quality and sustainability."
The new acquisition in Cedar Rapids adds to Quala's list of food-grade facilities, including Charlotte NC, Atlanta GA, Chicago IL, West Memphis AR, Jacksonville FL, Oakville ON, and others.
Quala's new facility will house two food-grade cleaning bays, two tractor-trailer maintenance bays, and on-site truck scale.