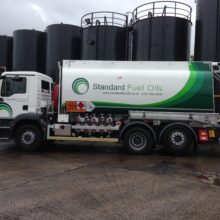 Nick Goodwin, Managing Director of Standard Fuel Oils, a family owned fuel distributor in the UK has announced the order of a further two tankers following the success of their first vehicle from Road Tankers Northern. The company follows an ethos based entirely on good customer service and have became so busy that they ordered a new 5 compartment tanker mounted on a MAN 6×4 chassis over 6 months ago now. The new tanker constructed by RTN made its show debut at the 2014 FPS Exhibition and is fitted with Alpeco Limited tank and metering equipment including the TE550 electronic register, Alpeco's advanced Truck III metering system.
Nick Goodwin acknowledges the new vehicles when outlining his vision for the company's future. "We pride ourselves on our customer service and enjoy the support of a great team here. We always deliver at the earliest opportunity, usually the next day but endeavour to deliver the same day to those who find themselves without fuel, especially in the winter months. The new vehicle has been a valued addition to our fleet and has proved so successful that we have ordered two more identical trucks from RTN."
Aylesbury based Alpeco Limited, a member of the Flowmax Group, is a supplier of liquid handling equipment to the petroleum road tanker and industrial petrochemical industry internationally. With more than 30 years of experience, Alpeco offer a range of products including engineered pump and meter solutions for depot and plant, petroleum and chemical road tanker applications, tanker loading equipment, flow meters for handling all types of petroleum product including LPG and lubricating oils, bottom loading arms, tanker loading skids; loading couplers, hose adaptors, vapour recovery adaptors; IBC dispensing equipment and customised pump and meter solutions.
For more information visit:

http://www.alpeco.co.uk/

http://www.rtnltd.co.uk/