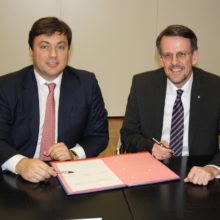 VTG Aktiengesellschaft, a leading LNG tank wagon hire and logistics company in Europe have signed an agreement this month with Brunsbüttel Ports Gmbh owner reaffirming the commitment of both parties to a more environmentally-friendly energy source in Liquid Natural Gas (LNG). Dr Heiko Fischer, CEO of VTG stated that, "I am delighted that we have taken the next step with our partner, Brunsbüttel Ports, to further develop an LNG transport and logistics system. Together we intend to utilize and extend opportunities for a land-based LNG supply across Europe from Brunsbüttel Port." Brunsbüttel Ports have already set in to motion plans for an LNG terminal, whilst VTG have developed two tank wagon prototypes for the transportation of the fuel in conjunction with its Czech partner, Chart Ferox.


Due to these developments Managing Director of Brunsbüttel Ports, Frank Schnabel, believes that there is great potential for synergies between the two. He added, "LNG is the ideal solution for environmentally friendly, sulphur-free ship propulsion. It also is an attractive alternative to pipeline gas for the industrial sector so this terminal will act as a starting point for onward distribution by rail with the VTG LNG tank wagons."


Natural gas is traditionally transported in a gaseous state via pipelines. However, cryogenic liquefied natural gas can be transported by ship, truck and tank container, as it is cooled to a temperature of minus 162 degrees Celsius (~ -260 degrees Fahrenheit), which reduces its volume 600 fold. This means only two tank wagons on the tracks replacing four trucks or five tank containers on the road resulting in less traffic jams, less environmental pollution and lower costs.
For more information contact:
Monika Gabler (VTG Aktiengesellschaft) or Carsten Lorleberg (Schramm Group)