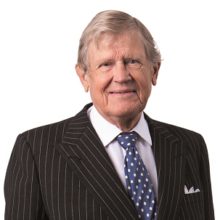 Jacob Stolt-Nielsen died on Sunday 15 February at the age of 83. He founded Parcel Tankers Inc in 1959 and pioneered the global trade for liquid chemicals, ultimately building what is today the world's largest chemical tanker company, Stolt Tankers.
In 1971, he founded Stolthaven Terminals, which today operates 20 bulk liquid storage facilities worldwide. In 1972, he established Stolt Sea Farm, a pioneer in salmon farming, which is recognised today as a leader in high-tech aquaculture, focusing on sole, turbot and sturgeon for caviar.
In 1982, he founded Stolt Tank Containers, now the world's largest tank container operator.
Stolt-Nielsen served as chairman of the board of directors of Stolt-Nielsen Limited since he founded the company until 15 December 2009 when he stepped down as chairman, but remained as a director until his retirement in December 2014.