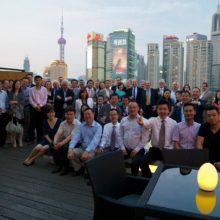 Since then the business has grown significantly and a second office has been opened in Tianjin. Eurotainer has identified significant tank container leasing opportunities in North China and the Tianjin office is located to target additional business growth in the region.
In June 2014, Eurotainer held a tenth anniversary banquet in the Huangpu District of Shanghai to celebrate the achievement and to thank clients and suppliers for their support over the previous decade.
The banquet was attended by more than 200 guests enjoying a dinner and night of fun overlooking the Huangpu River. Members of the Chinese chemical industry throughout Asia Pacific, transport companies and service providers joined Eurotainer for the event.