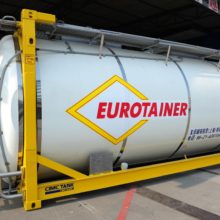 The tanks were designed specifically for the Chinese market. They are insulated, cladded and built with a large heating surface area. The tare weights of these tanks are lower than older swap bodies, which allows for higher payloads and more efficient shipments of liquid cargoes. Components include a large walkway area, collapsible handrails, safety relief valve, sampling port, and cleaning hatch.
Eurotainer sees a growing demand for these larger capacity containers in China. As such the tanks were built to meet this requirement and will immediately go on lease to current clients.
The introduction of swap bodies in Asia Pacific represents a significant event for Eurotainer as this is the first time the leasing company's fleet of swap bodies have been used outside of Europe.
Last year Eurotainer celebrated 10 years of operating in China . It opened its first office in Shanghai in 2004. Two years later, Eurotainer Tank Leasing (Shanghai) Co, Ltd was established. Since then the business has grown significantly and a second office was opened in Tianjin.