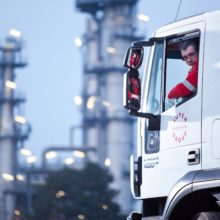 This means Hoyer Mineralöl-Logistik GmbH will continue to supply around 600 Esso service stations in northern, western and eastern Germany with fuel until mid-2018. In addition, the logistics group will take care of inventory management.
Hoyer has been supplying ExxonMobil with fuel since 2000 and has 45 vehicles a day on the roads for this purpose. "The early prolongation of the contract is the result of good operational work and proves that Hoyer is an extremely reliable partner in the fuel supply sector," commented Volker Schmitz, managing director of Hoyer Mineralöl-Logistik GmbH.
The new contract provides not only for the straightforward delivery of fuel, but also, in particular, for the management of the customer's entire logistics process. To determine the supply quantities with precision, Hoyer uses IT solutions that it has developed specifically for this purpose. Sold quantities are monitored and compared with empirical values and forecast data. In this way, the logistics experts ensure that despite their limited storage capacity, all of the service stations always have an adequate supply of every fuel type on offer.