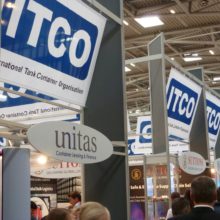 Comprising 56 exhibition stands and over 60 ITCO members in total, the 2015 Village represents a 15 percent increase over 2013, which in turn was 20 percent larger than in 2011. Located in Hall B4 of the New Munich Trade Show Centre, the 2015 Tank Container Village will again offer ITCO members, exhibitors and visitors an important opportunity to meet customers and partners in a dedicated environment.
Apart from the exhibition stands, the Tank Container Village features a central bar and meeting-lounge area. Two evening receptions are being organised: the traditional ITCO Welcome Reception on Tuesday 5 May at 18:00; and the Wine-Tasting Evening, sponsored by Perolo, on Wednesday 6 May.
Visitors to transport logistic 2015 will find the Tank Container Village in Hall B4 (Stand 221/322).
Further information can be found at