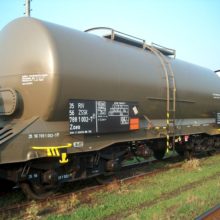 ZSSK Cargo will retain 34 percent of the shares, while VTG and the group of investors will each acquire 33 percent. The parties are jointly putting a total of €7 million in the equity of the company.
Cargo Wagon will receive additional funding from an international banking syndicate.
"We are delighted that our freight wagon management expertise can help ZSSK Cargo to take a major step forward with respect to its competitive ability and capital efficiency," said Dr Heiko Fischer, CEO of VTG Aktiengesellschaft.
"This is the first sale-and-leaseback transaction of any state railway wagon fleet in Europe. It could be the prelude to a fundamental redefinition of the investment and risk partnership between wagon hire companies and railway undertakings which dates back several decades," Fischer added
The basis for VTG's involvement in Cargo Wagon and, with it, the acquisition of ZSSK Cargo's freight cars, was the Slovakian Ministry for Transport's Europe-wide tender in 2014. VTG's new acquisition, AAE, was awarded the contract. Negotiations about the participation began in 2013.
A total of 8,200 wagons will be hired back to ZSSK Cargo.
The transaction is a continuation of a longstanding co-operation between AAE and the Slovak State Railway companies. In 2001 and 2006, approximately 1,000 wagons were purchased from ZSR, the state-owned railway infrastructure company in Slovakia, and ZSSK Cargo refurbished and rented back to them.