The logistics service provider reveals how to build customer loyalty in a competitive environment and explains the move to multimodal
Could you provide us with a short overview of H.J van Bentum and its areas of operation?
Since its establishment in 1969 H.J van Bentum has grown into a strong and professional family business with the emphasis on quality, safety and the environment. My wife and I took over the company in 2005 from my parents. We specialise in dry-bulk and packed transportation and additional logistics services. We work with 200 silotrailers and 200 tautliners to serve the UK on a Ro-ro modality. We specialise in UK haulage only. We work for the petrochemical / chemical / automotive / packing / construction / paper / soft drink and food industries.
You have moved from being primarily a road haulage company to multimodal transport. Can you tell us more about the reasons for that decision and how you have managed the transition?
Although originally being a road haulage operator, we have responded to the market developments of recent years by boosting the role of multimodal transport within our organisation. We develop creative solutions and innovative concepts, which minimise our transport movements and the number of kilometres covered by our vehicles. This in turn reduces their environmental impact. Not only does this result in a safer, more reliable and flexible operation, but by increasing the cost effectiveness of our services, this also boosts our competitiveness.
What do you offer to your customers in order to make your business stand out and how do you create customer loyalty?
We both value our relationship, because of the excellent performance and reliability. Through innovative concepts and development on both sides we create a longer term relationship.
How has your company developed over the past 6 years?
We have grown the last 6 years in our volume to the UK market by about 50%. We did this in line with our sophisticated ICT system, which allows us to follow the latest developments in the market, giving us access to real-time information, which is important for our customers. Of course, besides all the developments in the technical and ICT fields, it is our skilled and enthusiastic employees that play a vital role in the overall operation. The regular training and retraining of all our employees and service partners guarantees that our customers always receive optimal service and solutions.
Do you have any plans for expansion?
We like to keep growing steadily, with our focus on the UK market.
Are there any upcoming changes or developments that you would like to see to benefit the transport and logistics industry?
Yes, we are investing in our research and development to develop innovative concepts.
How do you relax in your spare time?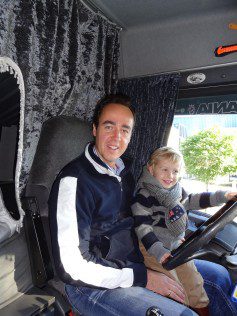 I have a little boy who I spend a lot of time with. We like to enjoy our home together with our good friends. We also like to walk in the forest close to our home with our dog. I have also completely restored a "van Bentum" Scania T bull nose truck, which my father bought in the past.