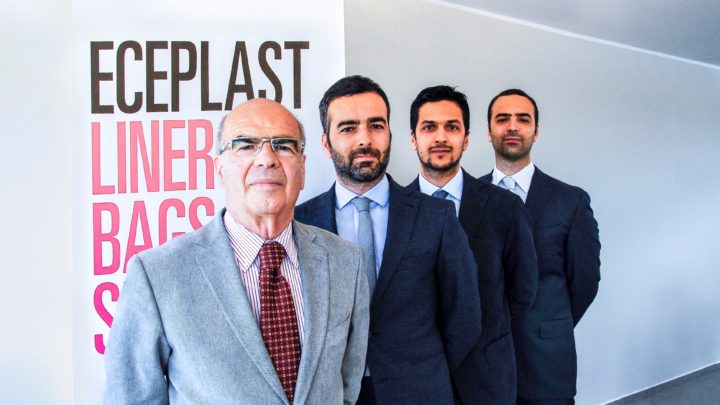 Can you tell us a bit more about how you came to work with Eceplast?
Eceplast is my family's company. Exactly 20 years ago my father decided to change our lives, becoming an entrepreneur and involving the whole family in his lifelong project with his passion and vision. I can proudly say that I personally contributed to the production of the first samples of liners when I was still a student. My choice then was very straightforward. After my college graduation in 2003, I joined the company in the sales team with a focus on developing the European market. Nowadays I am the commercial director, my father is still the CEO and my two younger brothers, Vito and Alessandro, both engineers, are working for the company developing new products and improving the efficiency of our production plant so that we can stay very competitive on cost and be one step ahead of the competitors.
Could you provide us with a short overview of Eceplast's areas of operation?
Linerbags, in a wide variety of versions, still represent the company core business, but 2015 is a turning point and at Transport Logistic this year we will present new sets of products and services introduced thanks to strategic partnerships developed in the last 2 years and that we are now ready to disclose. As a matter of fact we are now ready to offer Flexitanks, Thermal Liners and FIBCs. We intend to offer this wider range of products to our established or new customers, having selected premium class partners to expand our market globally.
How has the company developed over the past five years?
If I looked 5 years back I would not see a big difference in terms of market share and revenues, but this is probably the wrong way to look at things. In fact we have followed a strategic development plan to look at the next 5 years as the most challenging and promising in our history. We have invested deeply in our human resources, employing more young and skilled workers, building up R&D and a quality team of five engineers that nobody else in the market has. We have built an internal liners and flexitanks test facility and have also developed new automated production lines to better face our cost-based competition. In total, the expansion of the Italian headquarters with a production plant and company offices gives us a covered area of 30,000sqm in our home town of Troia. Targeting a global market will also include some strategic investments abroad, with India and UAE in the first row, followed by sales offices and warehousing locations in the West and East coast of the USA.
How competitive do you consider the market you operate in?
It is a very competitive and price-oriented market. It is very hard to understand sometimes how even very important and wealthy companies can be tempted by savings of a few cents, risking huge economic and image problems in case of failure, but this is the case. It is our job to constantly look for cost optimisation, and to develop innovative solutions helping customers to convert more and more products from packed to bulk. In the long term, our policy to build partnerships with customers is the best way to stand out from the crowded environment of low-cost Asian-based producers.
What do you offer to your customers in order to create loyalty?
The quality and reliability of our products are not negotiable. We never promise what we cannot deliver, either in terms of price or service. For example, with product liability insurance, when others simply say: "Sorry we only replace a faulty liner", we can cover all costs. We also provide technical support and know-how to develop innovative solutions, and thanks to the newly installed test facility, developed in cooperation with University Politecnico of Bari, we can load and test internally new materials to be transported in bulk containers.
What differentiates a good product from a poor one?
This is a very hard and challenging question. Most of the time the customers are not able to identify or classify packaging materials apart from in a very simplistic way: failed or worked. Of course, this makes the life of high-quality packaging producers very hard. Normally in the long term (thousands of pieces) bad quality results in massive extra costs.
How does Eceplast ensure that its products are environmentally friendly?
This is one of the latest development that we are working on at Eceplast. Even if we start from the assumption that all our packaging materials are naturally replacing many other pieces of smaller packaging, they also help to optimise the transported volumes and quantities and reduce loading and unloading operations. We have just commissioned a formal analysis of what the real impact of our products is in terms of their carbon dioxide footprint. We will come back with more interesting news in the next interview.
What plans does your company have for expansion?
Our plan is to scale up our company model through building strategic partnerships worldwide, implementing new products in our product portfolio to offer a wider range of packaging and related services to our existing and new customers.