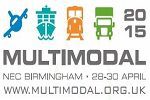 OBS Logistics (Hall 8 at stand no 1135) will be demonstrating the value of a single integrated system called CALIDUS Online to underpin supply chain and logistics activities, with particular focus on the use of mobile devices to offer instant access to real-time information and the value this can add to the business – from improved customer responsiveness through to cost reduction.
DB Schenker Rail UK (stand 550) has launched an eco-friendly product for zero-carbon rail freight called Eco neutral. It will allow customers to offset 100% of their CO2 emissions.
Descartes Systems Group (stand 460) will be demonstrating the Pentant electronic inventory management cloud-based solution that will address the proposed HMRC electronic manifest declaration change expected to come in to force this later this year
Software application and engineering company Red Ledge (stand 232) will be doing a public launch of 'Red Ledge Manufacturer', a fast-build manufacturing and logistics system for multimodal and other supply chains that uses RFID and barcode data capture to track and trace goods end-to-end, from raw materials through manufacture into storage and distribution.
Transport management experts 3T Logistics (stand 850) will be showcasing a revolutionary new suite of transport management products developed for the logistics industry at this year's Multimodal. The products include SOLO.Dock, an interactive application for bay management, as well as SOLO.Track which can be used to manage and track delivery information instantly.
Away from the exhibition area, there will also be a full seminar programme that will feature sessions curated by Loadstar, the Freight Transport Association and the Chartered Institute of Logistics and Transport.
Finally, for those who need a drink after a hard day's networking, Aztek Logistics will be offering visitors to its stand a complimentary drink from the UKWA bar between 4.00pm and 6.00pm on Tuesday 28th and Wednesday 29th April. All they ask is that you book a short consultation with a member of the Aztek team.
The exhibition area is open from 10am to 6pm on Tuesday and Wednesday and from 10am to 3pm on Thursday. A full list of the shippers who will be attending is available here.
Bulk Distributor is a media partner of Multimodal and will be attending the event.