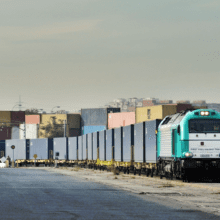 They were speaking at a session called "Finding new opportunities – building the new Silk Road" that was organised by the Investment Promotion Agency of the Ministry of Commerce of the People's Republic of China and Logistics Alliance Germany.
"The historic silk road is now broadened and extended," said Yan Hua director at the department of service industry at the China Investment Promotion Agency (CIPA). She added that German-Chinese cooperation had "huge potential".
China is Germany's third largest trading partner. The countries imported and exported goods and services valued at 140 billion euros ($192 billion) in 2013, according to the Federal Statistics Office.
Rail freight services between the two companies are already up and running, with trains travelling between Beijing and Hamburg, Chongqing and Duisburg, Zhengzhou and Hamburg and Shenyang and Leipzig. There are also services that begin in China and end in Brest, Warsaw and Madrid.
Yan spoke of the "one belt, one road" initiative of the government, which includes developing a southern route for rail freight that does not need to go through Russia.
Dr Jens Gräfer, head of international affairs at Deutsche Bahn, admitted that the Beijing-Hamburg route had "taken some time to be accepted by the market". But he emphasised the speed advantage that rail has over sea, and the cost advantage over air. Shipping goods by rail takes around 20 days at the moment, with the possibility of that being cut to 16 days if customs clearances and time taken to change bogies to accommodate Russia's different gauge is taken into account. In contrast, transport by sea takes up to 40 days and air, while only taking 5 days.
Despite these advantages, Gräfer said the route would "remain a niche product" because of the reduced capacity. A train can transport at most 50 containers, while ships can move 80,000.
Rainer Mertel, managing director of KombiConsult, picked up on this point. He looked at shipping statistics between Europe and Asia for 2014 and argued that ships carried in two days what rail carried in a year.
Mertel argued that rail could only work for high value goods, using the example of notebook computers, where the reduced time to market made up for the increased cost. But he said that as China pressed on with its plans to develop inland cities, which would then be producing goods far away from the ports on the east coast, rail freight may start to come into its own.