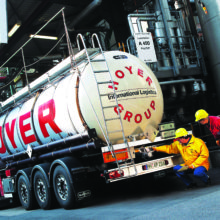 Pre-tax earnings totalled €38.6 million (previous year: €35.6 million) with a pre-tax return on sales of 3.5 percent. The outcome of all this was that turnover and earnings both reached a record level. Equity also showed a positive trend, rising to €258 million with an equity ratio of 42 percent. The number of employees rose to reach 5,098 people.
The largest percentage increase in turnover (up 5 percent) in 2014 was posted by the Gaslog business unit, which is responsible for logistics of industrial gases. This growth rate was almost equalled by the overseas activities bundled in the Deep Sea business unit: around 4 percent higher than in 2013. With 36 percent, the Chemilog business unit again accounted for the largest proportion of the logistics specialist's revenues, although it had to endure a slight decrease in its result. This was a consequence of the immense pressure on prices in the market and barely increased production volume in the chemicals industry.
The Petrolog (fuels and bitumen) and Foodlog (foods) business units both increased their turnover by 1 percent over the previous year, while the Techlog business unit, which encompasses the Hoyer Group's technical activities and the Supply Chain Solutions, improved its earnings.