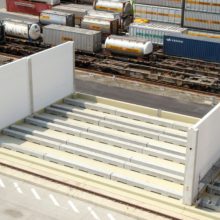 A new service being offered is dangerous goods storage to supply increasing demand for storing hazardous goods containers. Thanks to this expansion, the Schwarzheide region is directly connected to the north Germany seaports of Hamburg and Bremerhaven with at least three departures a week. A direct connection to Southeast Europe and Turkey has also been opened.
With the expansion, Bertschi is able to extend significantly the capacity at this junction between West and East European routes. The handling capacity has doubled to 120,000 TEU a year and storage capacity has been tripled to 2,400 TEU. Additionally, a steam heating station was installed, which enables up to 16 tank containers to be heated at the crane track simultaneously.
The new terminal module includes dangerous goods storage for 150 TEU according to BImSchG regulations. Partitioning by means of mobile concrete walls allows the separation of hazardous goods categories into different sectors. In case of need, the storage capacity can be extended at short notice. The launch of this facility bridges a gap in the market for this region.