Evonik Industries AG and Duisburger Hafen AG (duisport) are preparing to establish a jointly controlled company for the development of Evonik's Lülsdorf location.
The 50:50 joint venture will develop the premises available at the Lülsdorf site and improve the existing on-site logistics. Thomas Wessel, chief human resources officer of Evonik, and Erich Staake, CEO of Duisburger Hafen AG, signed the corresponding agreement in Duisburg in March this year.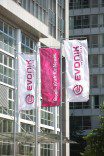 "The joint venture is designed to provide incentives for other companies to set up operations at the site. This would create new workplaces and make a sustained contribution to the development of the North Rhine-Westphalia region," explained Wessel.
Evonik and duisport have enjoyed a long and successful partnership. At the Marl chemical park, they have been joint shareholders of Umschlag Terminal Marl GmbH & Co KG since 2006. This company operates the container terminal for combined rail traffic.
The Lülsdorf joint venture will go hand-in-hand with the strategic collaboration that the two partners established last year. duisport has considerable logistics know-how in land development as well as port and rail handling. Through the partnership, this expertise will be combined with Evonik's existing logistics competencies at the Lülsdorf site.