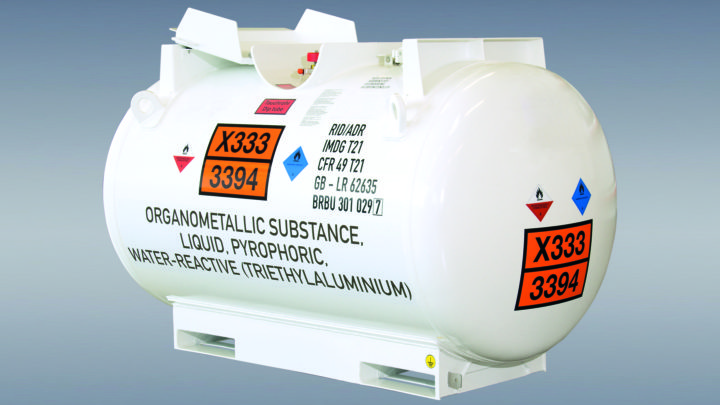 "Our customers don't to come to us asking for a number of T4, or similar, tanks. They come to us with a challenge and ask us to provide a solution." Thus, Jan Gerhard-de Vries, commercial director of WEW Westerwälder Eisenwerk GmbH, sums up the business.
Established in 1939, WEW has evolved from a small 'metal basher' into a by-word for high quality, durable modular transport solutions for numerous bulk liquids markets.
From its manufacturing base in Weitefeld, on a 460m high plateau in the heart of Germany's Rhineland-Pfalz region, about two hours north of Frankfurt, the company's success has been built on supplying bespoke solutions for clients requiring tank containers with high specifications for demanding uses.
The company's evolution as a specialist tank container manufacturer was prompted, perhaps ironically, by the growth of the tank leasing market in the 1980s. Lessors began ordering larger and larger numbers of standard tanks, which encouraged large scale production in markets with lower labour costs; first in South Africa, followed a decade later by China.
Many European manufacturers simply moved out of the tank market, but WEW saw that a focus on highly engineered tanks, leveraging its in-house expertise, was the way forward. Today, WEW produces tanks for the transport and storage of a large range of products: liquid food, chemicals and gases, with approval for more than 2,000 substances.
Alternative tank designs, such as quad-, tri- and bi-cons, as well as non-ISO purpose-built solutions are used in the mining, offshore and chemical industries. In over 40 years of service in these industries, WEW says it has encountered no significant design failures.
Generally, the company handles orders ranging from just one tank to as many as 200, although one tank would have to be 'very special'.
In August 2013, after 14 years of successful co-operation within Buhold Industries group, Buhold sold its majority shareholding to WEW GmbH making the German company fully independent.
Extreme conditions
A particular benefit of the company's tanks is being able to function in extreme conditions, from the frozen wastes of Antarctica to the searing heat of the Iraqi desert.
Remote Polar regions, for example, need safe transport and storage of fuel and water, without which base camps cannot function. "A research team might be stationed in the Antarctic for four months at a time," says Jan Gerhard-de Vries. "So fresh supplies of water, for example, are absolutely essential; otherwise it's a long walk to find more."
Given the company's expertise in providing these bespoke solutions military applications have become an important source of business. The company has successfully used standard ISO technology, complete with corner castings, to supply units that can be transported intermodally to bring fuel and water to field armies. For water tanks, components such as pump units, filtration systems, heating and cooling, and chlorination can be fitted depending on the application.
In the 1990s, the German Bundeswehr was looking for a means to deliver water and fuel to help in its peacekeeping role in ex-Yugoslavia. Out of this came a range of tanks for military applications and today WEW counts not just the German army, but also the US and British armies among its customers.
Units have been put into service in Kosovo, Iraq and Afghanistan. The advantage, says de Vries, is that the tanks can be delivered to the field and left on the ground – the 'drop and go' principle. This way, they do not tie up trucks and drivers, a critically important consideration as fleet deployment is a high cost factor in field logistics.
Just as important for the Bundeswehr, the German government insists that any equipment the army uses must comply with German environmental law wherever it is deployed. The very nature of the intermodal tank container means that it has a lower environmental impact than a tank trailer.
WEW also developed and patented a hook-arm design that allows units to be moved seamlessly through both the commercial and military supply chains. Using a hook-arm can put considerable stress on a tank's frame, but WEW's design reduces this frame fatigue. The design has been in service for over 12 years and more than 1,500 hook-arm systems have been delivered to date.
Bread & butter
However, the bread and butter business remains chemical tanks for products that require particular specifications, because they are either highly corrosive or highly flammable – sometimes both.
"It's a very competitive market, but we have a particularly strong competence in this field," says de Vries. A good example is a range of bromine tank containers that WEW recently produced for a specific client.
In its liquid form bromine is a reactive halogen used in the manufacturing of numerous daily items, from plastic bottles to protective coverings around cables. But it is highly flammable when in contact with air and so the tanks have to be built with lead linings to ensure safe transport.
In the past few years, WEW has designed and built tanks to transport aluminium alkyl (triethylaluminum), also known as TEAL, a colourless, highly volatile liquid which is highly pyrophoric, igniting immediately on exposure to air. This is consumed in the industrial production of polyethylene.
The 1,880 litre capacity carbon steel tanks were fitted with special hand lever security valve systems to ensure that the opportunity for the TEAL to come into contact with air was reduced to an absolute minimum.
In some cases, customers even order standard tanks from one of the large scale producers and then ship the units direct to WEW for upgrading, for example, by putting in specialised insulation.
Logistics converts
Such is the company's expertise, that it has seen success in converting clients' choice of logistics equipment. In one case, an ink manufacturer came to WEW saying it was experiencing too many punctures and spills from using IBCs to transport its products. "This ran counter to its environmental and CSR policies," says de Vries. "So we managed to convince the client to switch from using IBCs to specially-designed tanks that we could build for them."
Sometimes the simplest ideas can be the most ingenious. A growing market is tanks for oilfield chemical dosing. The company had the inspiration to turn a specially-designed small tank on one end so that it sits vertically. By doing this it saves precious footprint such that the tank sits on less space, an important consideration on a compact offshore oil or gas rig.
As with all tanks built by WEW, the units are manufactured at the company's plant in Weitefeld. Employees at the factory include qualified welders and craftsmen working according to ASME-Code, Sec. IX, AD-Merkblatt and EN 287.
Welding engineers have recognition by the US National Board, ASME, Lloyd's Register, Bureau Veritas, Germanischer Lloyd, TÜV, Selo, railway authorities and other leading classification societies. An in-house technical office works on project development, design, calculation and statics.
In the past couple of years, WEW has opened additional refurbishing and repair halls, including a 12,000 sqm covered and a crane accessible production area. Manufacturing and production qualifications are in place for manual, semi- and fully automatic welding (plasma, submerged, MAG-, MIG-, WIB- and E-manual welding) for processing of structural-, boiler-, fine-grained and stainless nickel steels, as well as special materials like Dillinal, Hasteloy, Inconel and Böhlerstahl. A modern water-jet cutter affords precision cutting. Several 3- and 4-roller bending machines are used for cylindrical and special tank shapes, each with its own roller control.
The in-plant configuration has been specifically designed to allow highly flexible manufacturing, handling up to 20 different orders in different lot sizes in parallel. de Vries says this is essential given the nature of the company's order book, with a number of different tank designs and production orders having to be managed at any one time. One factor that the company prides itself on is maintaining staffing levels even when the orders slow down temporarily.
At the same time it has an on-going apprenticeship scheme. This three-year scheme for welding, assembly and metalwork ensures high-level qualifications and knowledge, enabling skilled employees to solve very complex jobs independently and to the highest quality standards.
As part of its testing programme WEW regularly runs impact tests that are in line with ISO 1496/3.
The state-of-the-art design office is equipped with latest CAD technology and Solid Works software. The company's competence in design is demonstrated by the number of worldwide patents that WEW has been granted, 53 in the past 12 years alone. To support the CAD work, WEW makes extensive use of Finite Element Analysis tools in conjunction with an institution that also works with one of Germany's leading car manufacturers.
The company also has substantial experience in areas such as dynamic load stability analysis and codification. Each system can be supplied with a full set of technical documentation including 3D-drawings, parts list and maintenance schedules concomitant with defence, oilfield and other client requirements.
In fact, WEW exploited these technologies to create an extremely flat, thin-walled tank for the US Army. The 'Camel' Unit Water Pod System replaces the 30 year-old 'Buffalo' tank. Besides the complexdesign, the system includes heating, insulation, and pumping, with options to provide chilling and water bottling, as well as packing systems for further distribution. A similar module has been developed for the Bundeswehr.
In many ways WEW is potent example of German engineering competence with great attention to detail and listening closely to customer requirements. And as the suitability of tank containers reaches into markets previously thought to be the exclusive terrain other types of transport equipment, the future looks bright for the Weitefeld company.