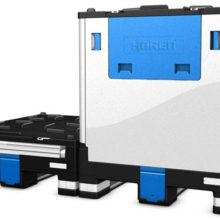 OptiFlow 1040 is a foldable bag-in-box container concept designed to simplify handling throughout the logistics process that is also returnable and reusable, substantially reducing the use of packaging materials compared to one trip IBC solutions.
By adopting the international size of 1200mm x 1000mm, OF1040 conforms to international standards which enables the efficient movement of products between countries and continents. It is easily used across any intermodal transportation.
Horen claims that, at 3.5:1, OF1040 has the highest folding ratio of any IBC currently on the market. The folding rate is a very important attribute of a foldable container as it dictates how much space can be saved in a warehouse or truck when the container is folded.