Antwerp Port Authority has issued a request for proposals to build and operate an LNG bunkering and filling facility.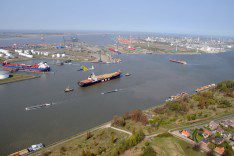 The port wants barges to be able fill up with LNG at a permanent facility by the beginning of 2019 at the latest. Truck-to-ship bunkering is already possible, but the port wishes to augment the availability by setting up a permanent station. Antwerp says the exhaust from a vessel driven by LNG contains hardly any particulates, and emissions of NOx are also drastically reduced.
Since 2012, LNG has been collected by truck at an import terminal in Zeebrugge and brought to the quayside in Antwerp from where it can be filled directly into a barge. Building a permanent facility will make LNG available in Antwerp on a continuous basis. The port of Antwerp is now looking to offer a build/operate concession on quay 528.
Interested parties have until 5 October to submit proposals. The text of the RfP (in Dutch) can be found on the port's website: www.portofantwerp.com