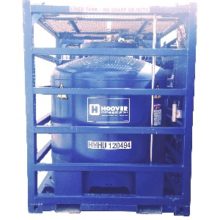 The tanks are constructed using carbon steel for the vessel, piping, valves, instruments and welds to withstand offshore service, with corrosion-resistant carbon steel used to construct the external frame of the tank. Linings for the interior are selected based on the materials being stored to ensure maximum corrosion protection.
Each of the transportable horizontal and vertical acid tanks are designed and manufactured to meet IMDG UN Portable Tank Type T14, DNV 2.71, EN12079, ADR/RID, CFR 49 standards and with frames designed to meet DNV 271 standards. Additionally, the acid tanks are equipped with a relief valve and rupture disc as safety features.
"Hoover is committed to manufacturing and providing our customers the highest quality products and services available on the market," said Donald Young, chairman and CEO, Hoover Container Solutions. "The addition of acid tote tanks will strengthen our comprehensive offshore product line by offering our customers a reliable and efficient solution for the transport of chemicals such as those used in oil & gas processes, waste materials and aviation fuel."
The offshore acid tank is available for short or long term rental or for purchase.