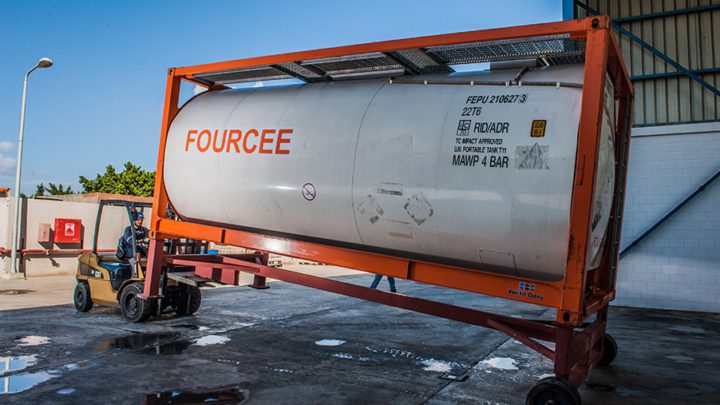 With this rise has come growing demand for tank movements in and out of the region, and Europe-, Asia- and North America-based operators and leasing companies have steadily grown their presence in the region to meet demand.
An IBC cleaning head is available at the depot and the operation only takes a short time due to the up to date equipment and process workflow EDS provides pneumatic tests to pressures up to 1 bar (14psi).
In Dubai, UAE, Joint Tank Services FZCO (JTS), was officially opened in January 2013 by Jamal Majid Bin Thannaih, vice chairman of DP World and group CEO of Port & Free Zone World.
Located in Dubai's Jebel Ali South area JTS also includes nearly 20,000 sq ft for handling and storage of empty tank containers. Stacking capacity is 3-high, lifting capacity up to 9 tons, total storage capacity of 600 empty tanks.
Cleaning of class 3, 8, 9, 4.1 and 6.1 and non-hazardous materials is carried out, as well, as cleaning of difficult cargoes such as resin and synthetic latex. The facility can also wash IBCs and road tankers. JTS has 12 cleaning bays and six spinning heads.
Tank repair services include structural and shell. Statutory periodic testing of 2.5 and five years as required by IMO legislation can be carried out too, in addition to pre-trip inspection and leak-checks of tank containers.
The facility has a number of value added services to offer. These include steam heating for products to facilitate discharge, nitrogen purging/ blanketing, on-hire & off-hire survey, off-site technical assistance and emergency response, tank container leasing, tracking and co-ordination services, and logistics including transport and shipping.
www.egytransdepotsolutions.com